To download and install TrainPlayer / TrackLayer 6.1 on your computer, click here:
OBSOLETE
Version 6.1.0 Dec 2014 54.7 MB setup61.exe
This installs the program and a small set of layouts and data files. Others are available from within the program after you install. A license key is required for full use of the program.
Procedure
After clicking the button, look for this panel at the bottom of your screen: (yours will say 61)

We recommend you click Save. This carries out the download, brings the setup file into your local downloads folder, then changes the panel buttons:

Attention AVG users! If you run AVG antivirus protection, it is likely to interfere with the installation. We strongly suggest you disable it until the installation is complete. If you need instructions, see the FAQ.
Now click Run. This starts the TrainPlayer installer, which looks like this: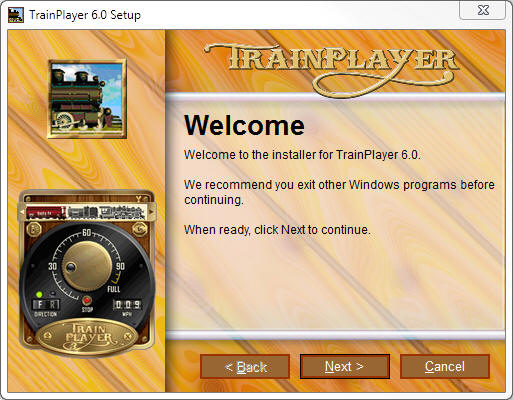 Do as it says-- close other applications, even Windows Explorer. If you are upgrading from a previous version, the 6.1 installer does some renaming of folders, which will not work if the folders are open.
If you have been running a previous version: the 6.1 installer will modify your system. You might want to read about the details before running the install -- see the 6.1 Readme.
After the install, you might see the Program Compatibility Assistant with the message "This program might not have installed correctly." Do not be alarmed. Click Cancel.
When you run TrainPlayer for the first time, you are prompted for license code. If you do not have one, click OK and the demo time period starts.
More Information