TrainPlayer News, July 2012 -- Announcing Version 5.1

This week -- while every telly on the planet is tuned to London -- is a great time to be introducing our new Verson 5.1 for the British Railway Enthusiast. It comes with a generous set of U.K.-style layouts, cars, and scenery, with new features making them easy to find and use, plus a long list of fixes and enhancements.
Version 5.1 is a free upgrade for licensed users; British content is available to all. To upgrade, click the button at right. If you are not yet a licensed user, check out the special prices below.
Version 5.1 Features
British Layouts! Over 120 new layouts from Railway Modeller, FreeTrackPlans.com, original designs by C. J. Freezer, plans from British users, satellite-photo layouts of rail stations and industrial areas all over the U.K. -- all equipped with track and industries, prepared for ops, and ready to run.

British Cars! Over 600 new types of British and European railway cars and locomotives -- old English steam engines, modern diesels and electrics, compact freight cars, Thomas the Tank Engine cars, models from Hornby and Bachman -- all rendered in miniature detail.

British Defaults! Indicate your continental preference in the installer, so you get your favorite data when the program starts.

British Terminology! No boxcars, gondolas or cabooses here, only vans, wagons, and brake vans. Choose a translation for tooltips, dialogs, and ops windows.
British content Auto-Download! Choose UK settings at install time, and when the program starts it makes you a convenient offer: with one click, download the entire set of British layouts, cars, scenery, and sounds. Get the whole batch at once.

Features for the non-British! New download methods, automatic toolbar resets, improved error reporting, much work behind the scenes, plenty of bug fixes. For details, see the 5.1 Readme.
Click for screen shots and more ==>

Specials
We are offering a special price to new buyers who purchase from this newsletter. Send us a new track plan and get an even better price. We welcome you railroaders from the U.K. and are hoping to add some of your layouts to our collection.
This applies to new users from the U.S. and elsewhere too! There is only one installer -- everyone runs the same program and has access to the same content. And we're always looking for new layouts from users anywhere.
Ready to buy? . To see our regular product list and prices, visit our Products page. If you're not sure, feel free to try the Free Demo
Other News
We now accept PayPal! Pay your favorite way.


Featured Layout: The Buckingham Great Central by Rev. P. B. Denny.

Rev. Denny constructed several versions of the Buckingham Great Central railway in his lifetime. This plan captures the look and feel of the fictitious branch to the GC main line as it may have looked on 1907. His various models are detailed and precise to a remarkable degree.

This layout was featured in the January 2009 issue of Railway Modeller;

used with permission.

More...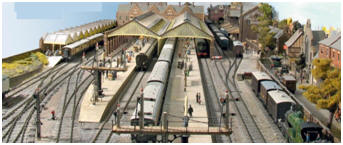 Contact

TrainPlayer Software
Thank you for your support.
Clicks

Try the full program free for 30 days. Windows XP, Vista, Win 7.

Read about the new version and see screen shots.

Licensed users: click to download your free upgrade.

Grab a credit card, pick from our simple product line.

Come visit! We need the clicks.
---