Railroad artist Chris Pedersen approached us with the idea of developing a set of rolling stock images for TrainPlayer users. The samples he presented were dazzling -- incredibly detailed, accurately painted, based on actual models, drawn in full HO size. We went for it, and are pleased to offer you the results: a collection of over a thousand great cars and locomotives in a new version of the program which shows them off in glorious detail. For examples, see below.
Version 5.2 has many other nice improvements too. Now you can drag a train around the track with your fingertip! It is now easier than ever to view and edit car properties and assign car loads. Many popular bugs have been fixed.
Upgrading to the new version is free for licensed users, but there is a charge of $29 to obtain the Chris Pedersen Cars. The price includes access to new collections as they become available. The money goes to support Chris' drawing habit.
The Chris Pedersen Cars collection is a set of about forty folders of car images, each representing a certain type of car, and containing around thirty models of that type in different road names and colors. Each model has three images: a small accurately-sized side view; a detailed matching top view; and a precise full-sized side view expandable to the size of the actual HO model. All three are shown in the Car Chooser as you browse through the collection: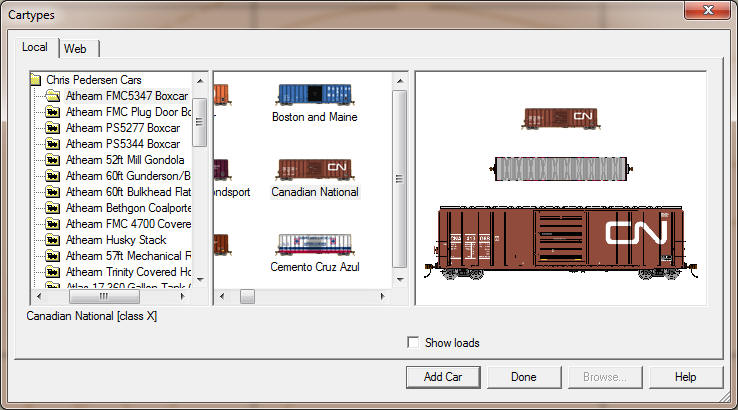 Model types include:

Athearn FMC Plug Door Boxcar
Athearn PS5344 Boxcar
Athearn FMC5347 Boxcar
Athearn FMC Plug Door Boxcar
Athearn PS5277 Boxcar
thearn 52ft Mill Gondola
Athearn 60ft Gunderson/Berwick Boxcar
Athearn 60ft Bulkhead Flatcar
Athearn Bethgon Coalporter
Athearn FMC 4700 Covered Hopper
Athearn Husky Stack
Athearn 57ft Mechanical Reefer
Athearn Trinity Covered Hopper
Atlas 17,360 Gallon Tank Car
Atlas 17,600 Gallon Corn Syrup Tank Car
Atlas 23,500 Gallon Tank Car
Exactrail PS4427 Covered Hopper
InterMountain 2-Bay Covered Hopper
Intermountain ACF 4650 Covered Hopper
Walthers Bi-Level Autorack

A small sampling of the many roadnames available:

Atchison, Topeka and Santa Fe
BNSF
Canadian Pacific
Chicago & Northwestern
Denver & Rio Grande Western
Canadian National
Norfolk Southern
Soo Line
Union Pacific
Wisconsin Central
Wisconsin Southern
Montana Rail Link
Green Bay and Western
Maine Central
Grand Trunk Western
Railbox
Frisco
Burlington Northern
Chessie
Missouri Pacific
The collection includes many varieties of diesel locomotives, freight cars, passenger cars, and cabooses. Currently only modern rolling stock is represented; there are no steam engines or tenders.

Full-sized images like this can be seen in the Car Chooser, the Car Properties dialog, and the Car Collection Editor. In all cases, the dialog can be enlarged so you can see the complete image, and you can browse through a series of images with one click each. In the case of Car Properties, this took some doing -- the 5.2 Properties dialog is modeless, meaning you don't have to take it down and bring it back up for each car.
Chris continues to produce more models and roadnames. Built into 5.2 is an update mechanism so that buyers of the collection can download more cars as they become available.
For more from Chris, see the Chris Pedersen TrainPlayer website.
Drag Trains by Hand! Hands-on operation! Point to a train, press, and drag it along the track -- just like a railroader's fingertip on the garage layout! Move the train in either direction, any speed. Throw switches as you go using the space bar. Bump into another train and it couples, click between cars to uncouple. The view auto-scrolls as you drag so you don't lose sight of your car. You can carry out a whole switching session without ever touching the control panel!

This feature was introduced in 5.1, but has been greatly improved for 5.2.
Properties Scheme! The Properties dialog in 5.2 is modeless, meaning it stays on the screen and updates as you click around the layout. This is handy for, say, browsing through your inventory of cars, especially if you have the Pedersen collection and can see large images. Properties changes are now undoable. Combo boxes and controls have been reworked for better operation.
Handy Improvements! Customers keep making suggestions, we keep adding on.
Auto-Save -- your layout is quietly backed up every so often, so you don't lose work if there is a crash
Auto View Restore -- zoom and position come up just the way you left them
Drag-and-Drop Loading -- drag from the Load Chooser directly onto cars; load an entire cut at once
Bug Fixes. Version 5.2 includes fixes for many popular bugs in such areas as: coupling and uncoupling, freight loads, opening large layouts, train horn selection, engine direction flipping, changing layout background. See the Readme for a complete list.


Click one of the buttons below. Buttons with prices take you to a shopping cart, where you can check out with credit card or PayPal.
If you already have a TrainPlayer license, thank you! You are entitled to a free upgrade to get the new features. To add the Chris Pedersen Cars, click the $29 button (or see note below).
-- Our Products --



Standard Cars


Chris Pedersen Cars

TrackLayer 5.2

The full program! TrainPlayer 5.2 plus track, scenery, ops, more layouts and cars

*

The whole works! TrackLayer 5.2 and all the new CP Cars

TrainPlayer 5.2

The ultimate operations system! TrainPlayer, ops, layouts, cars

*

TrainPlayer 5.2 and the beautiful new CP Cars
for licensed users
5.2 Upgrade
Upgrade your system to the latest and enjoy the new features

*

Add the full set of Chris Pedersen Cars. Licensed users only
* price shown is $5 off when program and CP Cars are purchased as a bundle
* Licensed users: click the $29 button to purchase the CP Cars collection and install them in your system. You will need to be running 5.2 before you can benefit from them, so another way to do this is: (a) click the Free button to install the 5.2 upgrade, then (b) start the program and use Help > Purchase Upgrade to buy the CP Cars.
If you are running an older version (prior to 4.0), the upgrade to the latest version costs extra. Please visit our Products page and purchase the upgrade there.
All products are available for download, or can be purchased on DVD for an additional charge. Purchase includes free e-mail support, periodic updates with bug fixes and enhancements. Purchase of CP Cars entitles you to additional cars as they become available.
Requirements. Programs run under Windows Vista, and Windows 7 / 8 /8,1. An internet connection is useful but not essential -- you need one to browse and download content from the web, but you can run without it when using content from your disk or DVD. Disk space: you need about 35MB to install the program files, but will want more than that to download content from web or DVD -- around 4 GB for the full content.


Delivery on DVD. Products are available on DVD for a $10 shipping charge. This includes all purchased content, so no subsequent download is needed. To request a DVD, use the Shipping choice on the checkout page ==>
License agreement. Our license agreement is displayed during install and reproduced in the Readme file. It says you are allowed to install the program on as many computers as you like, as long as you don't sell or give away the license key.
Click any picture for full-size image
| | | |
| --- | --- | --- |
| | | |
| Athearn 57ft Mechanical Reefer - Conrail | | Locomotives-Union Pacific - GP38-2-R |
| | | |
| Athearn Bethgon Coalporter - Burlington Northern | | Locomotives-Santa Fe - 8-40B-R |
| | | |
| Athearn 52ft Mill Gondola - Canadian National | | Athearn Husky Stack - Southern Pacific |
| | | |
| Atlas 17,360 Gallon Tank Car - Olin-Mathieson | | Passenger-Amtrak - Amfleet Coach-Phase VI |
| | | |
| Athearn FMC 4700 Covered Hopper - DRGW | | Walthers Bi-Level Autorack - Chicago and Northwestern |
| | | |
| Athearn FMC5347 Boxcar - Green Mountain | | Locomotives-Santa Fe - Caboose-Wide-Vision |