An industry is a named area on the track where goods are shipped and received. You can create these by hand, giving them your own custom lists of incoming and outgoing loads (see screen shot below). Or, you can call up the Industry Browser and choose from a list of standard railroad industries, pre-configured with loads. Or, you can let the Industry Generator populate your layout with a random mix of industries, created to be compatible with the cars on the layout. Or, you can take the easy route -- download one of our many ops-ready layouts, already equipped with industries.

Ops comes with a large catalog of goods you can carry in freight cars. For open-top cars, like gondolas and flatcars, the loads have pictures, so cars look loaded in both side and top views. For closed cars, like boxcars, loads are shown as text. For both types, you browse, select, and edit them in the new Load Chooser, which is easy because it looks and works just like the Car Chooser. Data behind the scenes ensures that loads and car types match, so you can't, say, load milk on a flatcar.


A switchlist is a set of instructions for moving cars. It might tell you to deliver an empty hopper from the yard to the quarry, pick up a couple of filled ones and set them out on the interchange. Each time you click Generate Ops, the program generates a random switchlist, presented as text in one window and as a grid of data in another (see picture under Ops Windows). Your job is to carry out the indicated moves.

A waybill is an order from an industry for services from the railroad. The Ops Generator creates these automatically, based on loads shipped and received at the industries on the layout. As with other parts of Ops, you don't really need to deal with these or even know about them, but they are part of the real-world process and it's educational to see how they fit in.
Generators are new under-the-hood devices for making random choices, used by Ops in various ways. The Station Generator populates your layout with stations having random names. The Industry Generator creates industries to match the cars on the layout. The Yard Finder locates track patterns which look like yards. The Interchange Generator picks a track suitable for interchange with external roads. The Ops Generator puts it all together and creates a switchlist.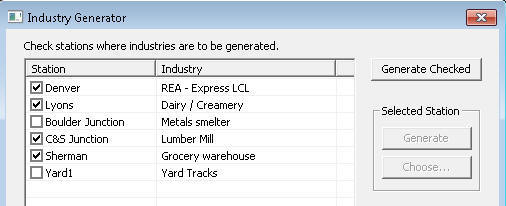 A typical delivery from an industry involves a series of moves and some special locations. An empty car is pulled from a yard and taken to the industry, where it is filled, then set out on an interchange to be picked up and hauled away. In Version 4.0, you can create yards and interchanges by hand, or let the generators find them for you, or download an ops-ready layout which already has them.

There is a lot of data associated with Ops, and special new windows to view and interact with it all. These windows are dockable, interactive grids, with columns you can choose and rearrange as you see fit. Rows are dynamically updated as trains move. Grid contents can be printed, sorted on any column, copied and pasted into a spreadsheets. One ops window shows the current switchlist, another shows an inventory of all the cars on your layout.

The easy way to prep your layout for Ops is to use the Ops Setup Wizard. This leads you through the steps of generating stations, industries, yards, interchanges, and an initial switchlist. You can run it once and save the results, or run it repeatedly for a new challenge every session.
Cartoonish car pictures are a thing of the past! Now when you click a button on the toolbar, you get a sharp-looking car from a set in the style of your choice. The program comes with Steam and Modern sets, and you can download others -- currently we have a beautiful set of Lionel cars, and a set based on the famous Gorre & Daphetid RR.


To aid you in understanding what the switchlist is telling you, car tops and industry areas have matching color codes. Your work orders can be interpreted as: deliver the purple car to the purple station, the green to the green, and so on. What makes this especially useful is the ability to turn on one color at a time, so you can highlight each move separately.
As part of the development of Ops, we have gone through hundreds of layouts on our website and prepared them for ops use. Stations and industries have been created to match the layout background. Cars have been added and balanced to be suitable for the industries. Yards and interchanges identified by hand.
To get an ops-ready layout, go to the Web tab of your Layout chooser and look for the new column Ops. A Y in this column means the layout is ready for you to download and operate.