The Spring version of TrainPlayer has poked up out of the snow and is now in bloom! Now released is Version 3.3.1, with several fine new features based on requests from users like you. Help yourself to a copy, it's a free upgrade.
What's New in 3.3.1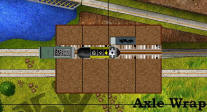 Transfer Tables. A transfer table is a compact device for moving a locomotive from one track to another -- like a turntable, except it slides instead of rotates. In TrackLayer 3.3.1, you can build one of these with a few clicks. Make it whatever dimensions and orientation you need, and decorate it with stylish artwork from our scenery collection. Double-click and it grinds slowly from one track to the next under the weight of your locomotive.
(Click any picture for a larger image)
TrackLayer 3.3.1 puts ballast under your rails! Select some track -- a single spur, a long mainline, or an entire yard -- right-click and presto, you have roadbed precisely fitted around the track, in your choice of width and gravel pattern. Not just for track roadbed but also great for streets, roads, rivers -- wherever you need a stylish channel meandering across the landscape.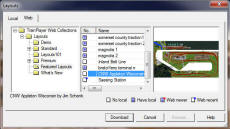 Chooser Improvements. Version 3.3.1 simplifies the system for managing layouts, car collections, and other files. Chooser dialogs have been revamped to work more easily and consistently. A What's New folder shows you content recently posted on the web. Icons in the choosers show which layouts you have downloaded and which are out of date. Context menus are simpler and more uniform. Documentation has been rewritten.
Now properly classify your rolling stock using freight and passenger codes from the American Association of Railroads. Choose from an extensive list to assign a specific type to each car in your collection, or download updates from the web, where we have assigned codes to every one of our thousand car types.
The AAR code project is a first step toward a complete stock management system we are developing for future versions.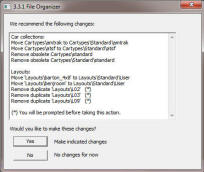 File Organizer. If you have been running an earlier version of TrainPlayer, chances are you have a fairly disorganized batch of files in your data folders. As part of the 3.3.1 simplification effort, we offer to help straighten things out. The first time you start the new version, you are notified if there are recommended changes, and asked if you want to make them.
Click Yes to let TrainPlayer carry out the recommended actions, and you will appreciate the result: your chooser trees will be cleaner and more aligned with the web collections and easier to maintain.
As always, the new version is the best one yet, with plenty of bug fixes and small enhancements to make trainplaying easier and more fun. Grab your free copy, keep up with the latest, and never look back! For more, see the 3.3.1 Features Page.
What Else Is New
How-To Clinics. Become a better TrainPlayer! Learn techniques from the masters. Check out the new articles on the How-To Clinics page.
Layout Design Contest Winners. We were delighted to receive some beautiful, innovative layouts designed by our users. All are available for download from your web chooser.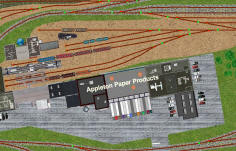 First Prize ($100): Jim Schenk's excellent "Appleton, Wisconsin," based on a layout by John Armstrong, shown at left.
Second Prize ($75): Peter Faber's fine "Saesing Station," a layout from Denmark.
Third Prize ($50): Jim Schenk again with "Toledo Union Station," featured at right.
Thanks to all who participated. For more, see Layout Design Contest.
How To Buy
If you have never purchased any TrainPlayer software, you have two options:


TrainPlayer 3.3.1
OPERATOR -- for running trains on pre-built layouts. Includes TrainPlayer, Standard layouts, Standard car collections,101 Track Plans, Screen Saver.
$59
TrackLayer 3.3.1
BUILDER -- for building and running layouts.

Includes all of TrainPlayer OPERATOR

plus: Track tools, Scenery Toolkit, Premium Layouts & Cars.
$99

Button click takes you to the checkout page, where a credit card will be required. Purchase includes free e-mail support, and free updates with bug fixes and enhancements until the next major release.


How To Upgrade

If you are a licensed user of any previous version, help yourself:


| | | | |
| --- | --- | --- | --- |
| Upgrade to 3.3.1 | Installs 3.3.1 to update your system and run with your existing 3.x license. | Free | |

Download of the new version is free. If you do not have a license, this installs the demo version -- the complete system with some restrictions -- free for 30 days. Use the Purchase Products command on the Help menu when you are ready to buy. If you have a license for a previous version, the download will upgrade you to 3.3.1, with the same capabilities allowed by your existing license. To upgrade to a higher level, use the Purchase Upgrade command on the Help menu.

If your current version is prior to 3.0, send e-mail to request upgrade information.

You do not need to uninstall your current version before running this new installer, but you may if you prefer.


Fine Print

Requirements. Programs run under Windows NT, 2000, XP, Vista, and Windows 7. An internet connection is useful but not essential -- you need one to browse and download content from the web, but you can run without it using content from your disk or DVD. Disk space: you need only about 30MB to install the program files, but will want more than that to download content from web or DVD -- up to a around 1GB for the full premium content.

Now on DVD. All products will shortly be available on DVD for a $10 shipping charge. The disk includes all purchased content, so you do not need to download anything further except updates. You are given the choice of installing to your hard drive or accessing directly from the DVD. To request a DVD, select it in the Shipping drop-down menu on the checkout page.
If you recently ordered a CD, please be patient -- DVD's are on order, will be shipping before the end of March.

License agreement. Our license agreement is displayed during install and reproduced in the Readme file. It says you are allowed to install the program on as many computers as you like, as long as you don't sell or give away the license key to anyone else.
Contact

TrainPlayer Software
4200 Arcadian Drive
Castro Valley, CA 94546
(707) 320-4246

Web: www.trainplayer.com
Email: info@trainplayer.com

Visit the lively group on our Yahoo forum

Thank you for your support.


Spring Special

$20 Off
TrainPlayer 3.3.1 for $39 (reg $59) or TrackLayer 3.3.1 for $79 (reg $99)
At checkout, enter the following code in the box "Coupon Code." Be sure to enter exactly as shown, in upper case. Then click "Recalculate" to see the new total.
TPSS-310
Limited time offer. Expires 6/1/10
Clicks



Try all features free for 30 days.
Windows 2000,XP,Vista,W7. Send e-mail if you need an extension.





Grab a credit card and pick a product from our new simplified product line





Free upgrade for all users

Features
Version 3.3.1
TrainPlayer / OPERATOR
TrackLayer / BUILDER
Scenery Toolkit
101 Track Plans
Premium Layouts & Cars
Standard Layouts
TrainPlayer Screen Saver
Featured Content
How-To Clinics
Quotes
"Trainz and MS Sim will just have to rest in their turntables - I have finally found a train program worth my time. Thanks!" Dwight Brown Aug 2009
"What a superb piece of software. Many thanks for a lovely program." Terence Dalton June 2009
Featured Layout

Toledo Union Station
by Jim Schenk