Mar 2016: Announcing Version 6.3!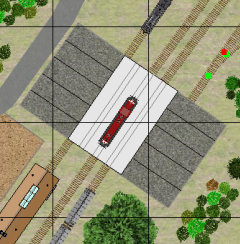 It's the DOG! Advances in the science of TrainPlayer Scripting have made it possible to develop the Directed Ops Generator, a system for challenging railroaders with random switching jobs!
Open one of our dozens of great new original layouts -- scripted instructions will tell you what to do, labels on car tops will show you where they go, an automatic monitor will keep track of your progress, and you win a virtual T-shirt when the day's work is done!
Along with new layouts and scripting features, Version 6.3 has plenty of bug fixes and other goodies. Multi-track transfer tables for compact staging! Improvements in scenery styling! Smoother auto-scroll!
Free upgrade for 6 users. For the full scoop, see the 6.3 Features Page.
---
Nov 2015: Now Shipping Version 6.2!
Another great new version brings bountiful additions and improvements to the Scenery Toolkit -- beziers, style dialogs, drawing grid, build-it-yourself scenery -- plus hundreds of stylish new objects for your layouts. This comes on top of a major overhaul of graphics with improved resolution and performance, and lots more.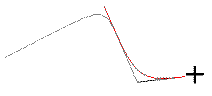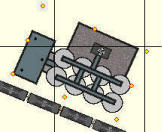 For the complete list and info about how to obtain, see 6.2 Features Page.
Free DVD Shipping through January! See Dec Newsletter for special deals and purchase info.
---
Dec 2014: Release of Version 6.1!
Another new version already! This adds a lot of beef to the scripting features, plus some new scenery capabilities, a great new Aussie car collection, and lots of bug fixes! Free upgrade for 6.0 users. See 6.1 Features Page.
---
Sept 2014: Release of Version 6.0!
A long time coming! Well over a year of development work delivers new features including a great package called Advanced Scripting, which gives you everything you need to automate your layout and drive it by computer! Set up a self-running demo, program the solution to a switching puzzle, automate your daily operations -- great new challenge for the do-it-yourselfer.
For more info about scripting, see the 6.0 Scripting Page. Here's a glimpse -- click to enlarge: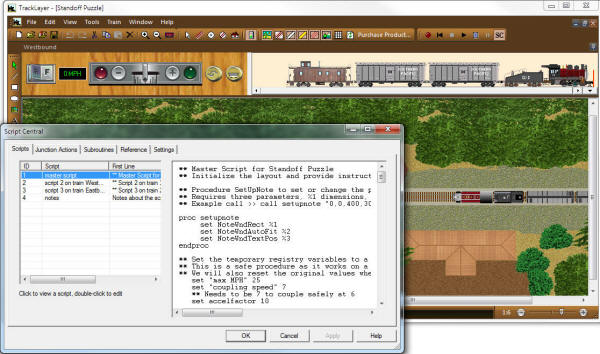 The new version comes with a generous set of scripted layouts and examples, including famous switching puzzles like John Allen's Timesaver, cleverly scripted to challenge you and keep score.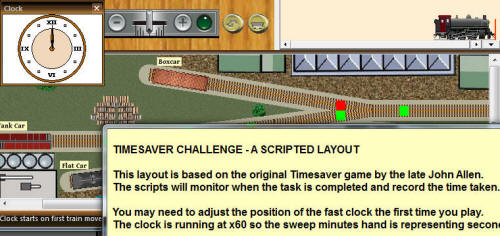 Another big advance in 6.0 is the introduction of 50-pixel cars -- great new sets of high-detail American and British cars and locomotives, with top-quality freight images to match. 6.0 comes with many new features for scaling and viewing trains at their sharpest.

For the full scoop, see the 6.0 Features Page.
---
New controls, new look! New resizable control panel / train window shows full-size side images:


New large-image loads for your Chris Pedersen freight cars:

More: double track, built-in ties and roadbed. Free upgrade for licensed users. For details, see 5.3 Features Page.
---
12 Jun 2013: Website move completed!
We have moved the website to a new host. Please let us know if you find broken links or other problems.
Over a thousand gorgeous model locomotives, freight, and passenger cars, drawn in precise detail by railroad artist Chris Pedersen. View them in actual size! To see one, click the picture =>
Another great new feature in 5.2: move trains by hand! Push the controls aside and just drag the trains along the track. Try it, you'll wonder how you did without it.
For version details, purchase and upgrade instructions, see the 5.2 / Chris Pedersen Cars page. For special deals, see the Fall Newsletter.
Welcome U.K. railroaders! Version 5.1 features hundreds of British and European cars and layouts, Brit-friendly terminology, and new mechanisms to get at it all easily. Plus some nice new features for the non-British, and a pile of bug fixes for everyone.