TrainPlayer Software brings model railroading out of the basement and onto your screen!

I

f you design, build, or operate a model railroad -- or you ever thought about doing so -- or you just like to run trains -- then you're in the right place! TrainPlayer offers thousands of great layouts you can run, simple but precise tools so you can design and build your own, and an integrated system for operations. Running trains couldn't be easier -- our software is fully granddad-approved, designed for people who like trains more than computers.

Try the free demo, see for yourself. For an overview, see Our Products below.

What's New
27 Jun 2013: Release of Version 5.3!
New controls, new look! New resizable control panel / train window shows full-size side images:


New large-image loads for your Chris Pedersen freight cars:

More: double track, built-in ties and roadbed. Free upgrade for licensed users. For details, see 5.3 Features Page.
---
12 Jun 2013: Website move completed!
We have moved the website to a new host. Please let us know if you find broken links or other problems.
Over a thousand gorgeous model locomotives, freight, and passenger cars, drawn in precise detail by railroad artist Chris Pedersen. View them in actual size! To see one, click the picture =>
Another great new feature in 5.2: move trains by hand! Push the controls aside and just drag the trains along the track. Try it, you'll wonder how you did without it.
For version details, purchase and upgrade instructions, see the 5.2 / Chris Pedersen Cars page. For special deals, see the Fall Newsletter.
Welcome U.K. railroaders! Version 5.1 features hundreds of British and European cars and layouts, Brit-friendly terminology, and new mechanisms to get at it all easily. Plus some nice new features for the non-British, and a pile of bug fixes for everyone.



For older What's New items, see What's No Longer New.
Our Products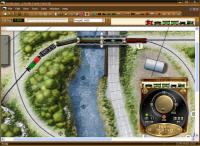 Just run trains. We provide the layouts and rolling stock, all you do is drive! Try switching puzzles, learn yard operations, automate your daily deliveries, or just cruise through the countryside. Famously easy to use. Includes many layouts including 101 Track Plans. Now featuring TrainPlayer Ops. $59. more...


Build and run your own. Easy, powerful tools for drawing an operating track layout, now with scenery too! Design a plan from scratch or add a yard to an old favorite. Run trains during construction. Try before you build. Includes all of TrainPlayer, plus Premium Layouts & Cars, track tools, Scenery Toolkit. $99. more...

Features

Decorate your layout. Buildings, trees, factories -- choose from our catalog or draw your own!A complete but easy set of tools for drawing, filling, and editing shapes suitable for use on a model railroad. Scenic your layout in an evening! Included with TrackLayer. more...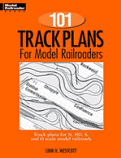 Classic Linn Westcott layouts. All 101 of the most popular track plan collection in history, faithfully reproduced from the book, overlaid with track, equipped with trains, and ready to run. Experience the Hungry Horse Timber Company in action! Included with all products. more...

Railroads from all over. Hundreds of layouts and car collections contributed by artistic users, from Bruce Bates' tiny Aquebogue Light to Ed Avetta's grand Wild Horse Timber & Mining Co. Included with all products. more...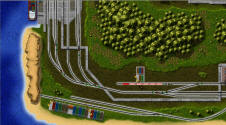 Top-quality railroad artwork. Hundreds of fascinating, original plans of all shapes and sizes, plus a vast cabinet of cars and locomotives to run on them! Includes four different renderings of John Allen's complete Gorre & Daphetid. Included with TrackLayer. more...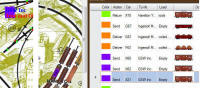 Railroad operations in your armchair

. Deliver tangible loads to industries you define on your layout. Let the TP Yardmaster give you your work orders. Learn about waybill cycles. Create yards and interchanges. Included with all products. more...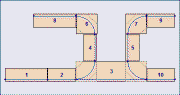 Test-drive your modular layout before the show

. Choose from a collection of precisely-built NTrak and HO modules, or build your own. Assemble them with drag and drop, then click once to build the full layout automatically. more...


Detailed rolling stock artwork

. Over a thousand locomotives, freight, and passenger cars, drawn in full HO size and beautiful detail. more...


Jul, 2013:
July Newsletter
Jun, 2013: release of 5.3
5.3 Features Page
Oct, 2012: release of 5.2
Version 5.2 - Chris Pedersen Cars
Fall Newsletter
Oct 2012:
Review in Model Rail Forum
Clicks



Try all features free for 30 days.
Windows 2000,XP,Vista,Win7-8. Send e-mail to request an extension.





Grab a credit card or use PayPal. Choose from our simple product line


visit TrainPlayer on


Features
Version 5.3
Version 5.2
Version 5.1
Version 5.0
Version 4.2
Version 4.1
Version 4.0
TrainPlayer / OPERATOR
TrackLayer / BUILDER
Scenery Toolkit
101 Track Plans
Premium Layouts & Cars
Standard Layouts
Featured Content
How-To Clinics
Quotes
"This is probably the best model railroad program out for computers. I can think of nothing that surpasses it for simplicity and elegance."
Doug Parrish, May 2011
"TrainPlayer has put an incredible amount of time and effort into Ops and it's paying off ... I'm having a ball working through the switchlists." Mark Johnson, Mar 2011
"Not only is the TP program pure genius, but the group enjoying it is beyond great -helpful, humorous, and always hungry for more. You can't beat it anywhere!" Hans Olson, Mar 2011