May 2016: Announcing Version 6.3.1!
Believe it or not, we spent two months figuring out how to know for sure which end of a car is the front! thus avoiding surprise flip-flops on coupling. Plus, fixing a nice bunch of bugs, adding a nice batch of scripting features, and delivering a great new narrow-gauge car collection with high-resolution top images.
For a list of features, see the 6.3.1 Readme or the TrainPlayer Version History. To download your copy, go to the 6.3 Features Page or just go straight to the Download page.
---
Mar 2016: Announcing Version 6.3!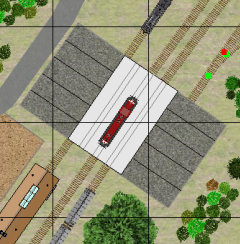 It's the DOG! Advances in the science of TrainPlayer Scripting have made it possible to develop the Directed Ops Generator, a system for challenging railroaders with random switching jobs!
Open one of our dozens of great new original layouts -- scripted instructions will tell you what to do, labels on car tops will show you where they go, an automatic monitor will keep track of your progress, and you win a virtual T-shirt when the day's work is done!
Along with new layouts and scripting features, Version 6.3 has plenty of bug fixes and other goodies. Multi-track transfer tables for compact staging! Improvements in scenery styling! Smoother auto-scroll!
Free upgrade for 6 users. For the full scoop, see the 6.3 Features Page.
---
Nov 2015: Now Shipping Version 6.2!
Another great new version brings bountiful additions and improvements to the Scenery Toolkit -- beziers, style dialogs, drawing grid, build-it-yourself scenery -- plus hundreds of stylish new objects for your layouts. This comes on top of a major overhaul of graphics with improved resolution and performance, and lots more.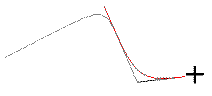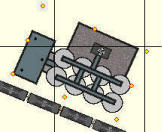 For the complete list and info about how to obtain, see 6.2 Features Page.
Free DVD Shipping through January! See Dec Newsletter for special deals and purchase info.
---
Dec 2014: Release of Version 6.1!
Another new version already! This adds a lot of beef to the scripting features, plus some new scenery capabilities, a great new Aussie car collection, and lots of bug fixes! Free upgrade for 6.0 users. See 6.1 Features Page.

---
For older What's New items, see What's No Longer New.
We accept PayPal!